Tents & Shelters
Tarpaulins
Our Canvas Tarpaulins are exported all over the world for various purposes in various sizes. All tarpaulins can be made in a fabric of your choice.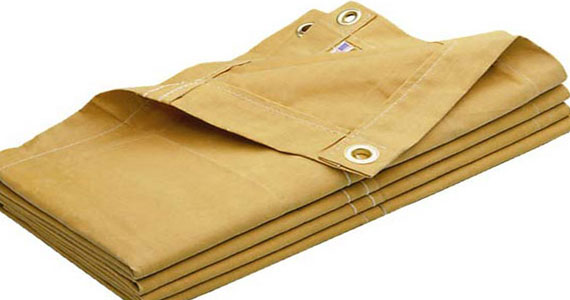 Tarps is shorthand for "tarpaulin", a piece of flexible fabric, used to protect an object from liquids or dust. Tarps are used outdoors to keep firewood dry, to protect cars and boats or to build makeshift tents or canopies. Ever see an 18-wheeler with covered cargo? The cover could be a reinforced plastic or canvas tarp!

Inside the home, tarps are often called "canvas drop cloths". They perform a similar protective function with painting being their Number oneuse! But not just any tarp will do. The correct tarp does more than protects your floors and furniture from paint drips. It may also speed your job by minimizing "mishaps", protect valuables from dust and make your work area safer!


Specifications
100% Cotton Single Filled Duck fabric (or in a fabric of your choice).
They are specially treated to resist water and mildew and can be made fire retardant upon request.
Construction features include: Double Stitched Hems & Seams.
Solid Brass.Grommets approx. every 3 ft.
Four ply fabric reinforced corners & grommets.

Yet if you do not find the design you have in mind, we have the capability to offer it to you based on our experience and quality of manual workmanship. Write to us and our designers will shape it out on the fabric of your choice.

Available Sizes
6'× 8' 6'× 10'
8'× 10' 8'× 12'
10'× 12' 10'× 14'
10'× 20' 12'× 14'
12'× 16' 12'× 24'
16'× 20' 18'× 24'
20'× 20' 20'× 24'
20'× 30' or Custom Size

Features
Brass Grommets aprox. every 3-4 feet.
Reinforced Patches, triangular in shape, and made of four layers of canvas, are sewn into the fabric at corners
and at grommets. This provides extra durability for high stress areas of the tarp.
Double Stiched Seams with heavy duty, rot resistant thread.
Fire Retardant Material Available.
Treated to ensure water resistance.


Related Products
PE Tarpaulins