Safety First Anti Blast Structures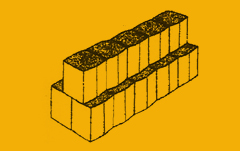 Anti Blast Structures are set of containers made of galvanized welded mesh joint together in a formation that has enormous strength & capability to with hold any sort of shock wave when filled with local available in fill material. Since it is a customized product according to the requirement of the user therefore all the products made are pre assembled & ready to use.
FEATURES
Simple & Efficient
Fastest Available Protection
Tested & Used Worldwide Since World War2
Cost effective
User/Logistic friendly
DISTINCTIVE APPLICATIONS
Surveillance Points
Defensive Shooting Positions
Explosives / Ammunition Storages
Bunkers
On Road Security Check Points
Flood Protection Line
SAND BAG VS ANTI BLAST STRUCTURE
To react effectively & fast are the vital elements in an emergency situation. These structures are the solution since they are logistic & user friendly they can be installed in no time even without skilled human force.
These structures are interconnected unlike sand bags which are stacked over each other & they don't even have the integral strength to bear any sort of shock waves produced
Minimum time required for erection.
Installation
Anti Blast Products
Comparison of human & anti blast units mechanical filling